My products:



Hobby-horses
Available now

My hobby-horses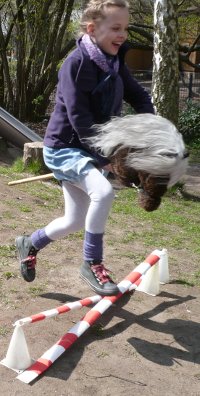 Each hobby-horse is unique and I manufacture it with best care and attention. The head is made of high-quality faux fur, the mane of real fur of Heidschnucken or Icelandic sheep. That's why you can comb, brush or plait them as you like. My hobby-horses are held at the stick; the rider is sitting on the stick and enjoys freedom of movement for the legs - so he can jump over obstacles. Compared to former wooden hobby-horses with a crossbar at the head and wheels at the end, my version minimises the risk of injury when falling down.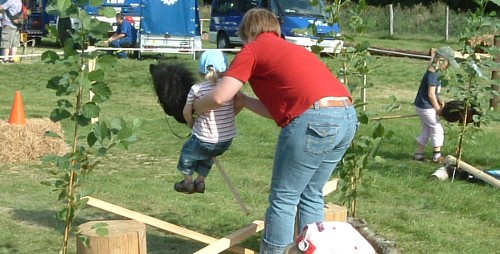 Available now
Sizes
The hobby-horses are available in two sizes, the difference is the size of the head. The total length is about 100 cm (large) and 90 cm (small). If desired, it can of course be shortened.
All my horses have beautiful, rare and long manes, all of them are very popular with girls. The prices vary slightly depending on the mane.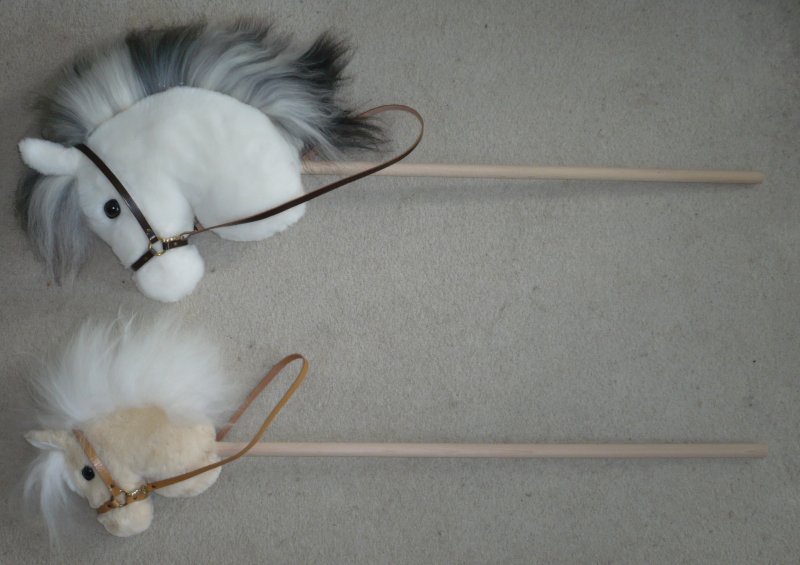 Harness
| | |
| --- | --- |
| Suitable harnesses with separately detachable reins are available in different colours (see "Available now"). | |
Shipping
Germany
9,90 € via DHL
14,65 € via Hermes
European Union
19,99 € via DHL
Other countries
On request
Instructions
The mane can be combed and brushed, please prefer a brush with straight bristels (no "knobs" at the end). For maintenance: Natural fur is by itself soil-resisting and has self-cleaning capacities. When there are lightly dirty spots, it is sufficient to wipe them with a humid cloth, then dry with a towel. More intense dirt can be washed out with washing agent for wool.
If necessary, the high-quality fabric of the horse head can also be cleaned with a wet towel (washing agent for hand wash) — do not blow-dry, that is too hot. The eyes: If there are any scratches, you can polish them with "PolyWatch" or "Vienna Chalk".
Playing: My horses are made to minimise the risk of injury as much as possible if a child falls down (softly filled head, no crossbar). In the last 31 years I have only heard of one near-accident: when a child got the idea of riding downwards a staircase. Please never let this happen - as the stick protrudes backwards, it might cause a downfall.
"Fan letters"